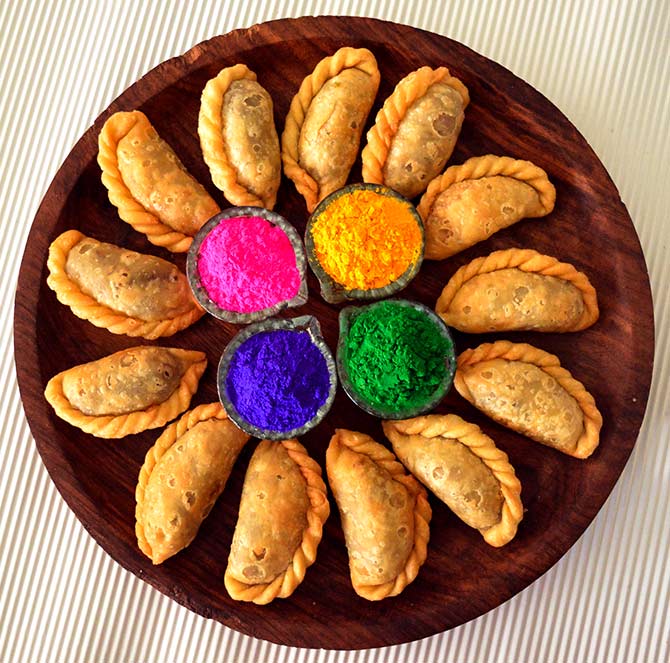 Known as Gujiyas in the North, Ghugras in Gujarat and Karanji in Maharashtra, these Indian Sweets are perfect for the upcoming festivities.
Crispy on the outside and exciting flavours of nuts on the inside make these ghee-fried delicacies a healthy favourite among Indian households. The addition of Stevia Brown makes it even more nutritious - perfect as an 'anytime' snack.
Ingredients:
100 gms Badam (Almonds)
100 gms Pista
125 gms Cashew
1/4th Cup Stevia Brown
200 gms Maida (All purpose flour)
Ghee for frying
Method:
Grind all the nuts (Almonds, Pistachios and Cashew) into a coarse powder. Take care not to make it into a fine powder - it should still have a crunch to it.

Heat a thick-bottomed pan. Roast the nuts mixture on slow heat taking care not to overcook. Once roasted, turn off the heat. Remove the mixture into a plate and leave aside to cool.

Add 1 tbsp oil into the flour. Lightly mix with your fingers. Add water little by little and start kneading the dough. Keep kneading the dough to a smooth consistency.

Divide the dough into 25 balls. Cover with a damp cloth. Leave aside.

Add 1/4th Cup Stevia Brown to the cooled nuts mixture. Also add in a pinch of cardamom (Elaichi) and mix well by hand. At this stage, you can taste the nuts mixture and mix in a bit more Stevia Brown if required as per taste.

Take one ball at a time and roll out a thin circle (approx. 4 inch diameter). Using a spoon as measurement, scoop out the nuts mix and place it in between the rolled dough circle.

Fold one end of the circle to the other end making a semi-circle. Lightly wet your fingers and press the ends till sealed. Now twist the edges of the ghugra to make a pattern.

Repeat steps 5-6 with the remaining balls.